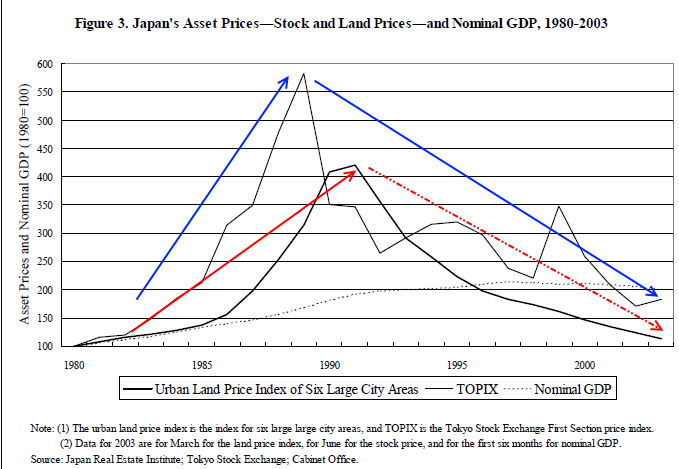 Tonight's show: Marginal Music During Japan's Bubble Economy, 1982-1994.
Featuring the world's most exciting graphics, guest George Rahi, and a bunch of cassettes. The show's arc begins prior to Japan's real estate and asset boom, with contemporary classical pieces that are generally strongly influenced by Western music. By the mid 80s, a new optimism has grasped Japan's avantgarde music scene, and there erupts serendipitous experimentation with the synthesizers and rhythm machines now made inexpensive and accessible by Japan's domination of the communications and digital technology industry. Once the bubble burst, and Japan entered a prolonged deflationary spiral, Japan's music scene became sharply binary. In a modern Sturm und Drang, Japanese pop music became increasingly kitschy and informed by consumerism, while the avantgarde began a long period of focus on stringent minimalism.
1) Margaret Leng Ten plays Somei Satoh – 'Litania' – Litania – Japan – 1986
Somei Satoh composed 'Litania' in 1973, but no recorded rendition appears to have been release until this album, performed by Margaret Leng Ten on two pianos with tape delay. The liner notes on the record somewhat aptly compare the piece to Krzysztof Penderecki's 'Threnody For the Victims of Hiroshima'. The listener is slowly exposed to increasingly atonal waves of chords and overlapping tremolos (of tone on the microscale, of amplitude across the span of the composition). The piece is strongly informed by the apprehensive Expressionism which gripped post-war Japan, though Satoh's inclusion of melodic intervals (in a break from Penderecki's 'Threnody…') perhaps speaks to the continuing attachment of new music to classical Japanese forms.
2) Mamoru Fujieda – 'The Art of Fugue – Version 2' – Obscure Tape Music Of Japan Vol.11: Radiated Falling  – Japan – 2009
The 'Art of the Fugue' series was composed in 1981 is based on a simple fugue in four voices from the first piece in The Art of Fugue by J.S. Bach, again demonstrating the importance of Occidentalism from the war through the early 1980s. A version of this work was also released on flexi-disc by ALM Records in Japan in 1981.
3) Techno Menses – B2 'Untitled' – Requiem In The Sun – Japan – 1984
An early demonstration of synth-pop or new wave with rather complex rhythmic construction and well ahead stylistically of much similar music at the time – Japanese or otherwise.
4) Yoshi Wada – 'Off The Wall I' – Off The Wall – Japan – 1985
A justly famous figure in sound art and installation, Yoshi Wada composed sonic environments that were integrally related to the performance space, and relied on the acoustic and reflective properties thereof as a structural element in the orchestration. The idea of music composition as an arbitrary span of an infinite score is of the tradition of La Monte Young and others. However, Yoshi Wada introduces a new spatial sensitivity and environmental ethic (he would often spend the beginning of a performance wandering the space to find its optimal projection point, or areas which induced constructive interference) – something of a precursor to the proliferation of field recording-based music in the 1990s.
5) Brett Larner & Ted Reichman – 'Itadakimasu 2' – Itadakimasu – Canada, United States – 1994
Classically trained koto player Brett Larner (Canada-born, Japan-inhabiting) and accordionist Ted Reichman play a piece reminiscent of both John Fahey and Kazue Sawai. Something of a return to the aesthetics of 'Litania', but further afield into improvisation and tonal experimentation (I am reminded of Ornette Coleman's thoery of harmolodics listening to this piece). This lends it a queasy sense of loss of foundation.
6) Minoru Sato – Irregularity-Homogeneity – Emerging From The Perturbation Field – Irregularity-Homogeneity – Emerging From The Perturbation Field – Japan – 1991-2011
The latest result of a series of work using fluorescent lamps started by Minoru Sato in 1991, and recently issued on Senufo Editions. Rather than recording natural or artificial environments, Sato uses a diversity of amplification techniques of the latter as instrumentation for composition. Stunning results, and elegant installations. Perhaps verging on the post-modern both in its embrace of what is essentially noise pollution, and in its focus on latent- or dis-functionality. The latter becoming a persistent theme in experimental music throughout the 1990s.
7) Koji Marutani – 'Scenes 2' – Other-Wise – Japan – 1994
A minimal, though hardly impoverished, piece by Koji Marutani consisting of long sine-tones (prefiguring Sachiko M) dividing and overlapping with natural and human-oriented fields. This work, though not the furthest removed from the first half of the show (listen to Sato's piece), is the most compelling in its rejection of aesthetic artifice. Even the sines feel like field recordings. The compilation title is wholly appropriate for the piece and fitting for a period of introversion and self-doubt in Japan's cultural and economic history.
Soundscape - February 1, 2012 - Marginal Music During Japan's Bubble Economy, 1981-1994
[ 56:32 ]
Play Now
|
Play in Popup
|
Download