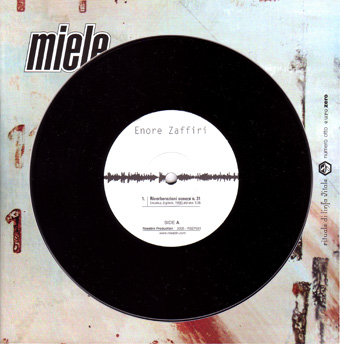 A recent (2005) 7″ by Enore Zaffiri which accompanied the Italian magazine Miele and limited to 125 copies. Riverberazioni Sonore collects two contemporary pieces by Zaffiri (two variations of the eponymous track from 1998) and an older document – 'The Dark Lady' from 1973. The former pair of tracks are pieces of percussion and tuned keys arranged through digital sampling in first a long-form and somewhat nauseous glissandos, and second through a kind of sonic pointillism.
'The Dark Lady' is more interesting, with contrapuntal analogue synthesizer and female vocals adroitly supplied by Ellen Kappel. The dynamic range makes its age apparent, but it is a worthwhile listen nonetheless.
From Rossbin's notes on the composer:
"Zaffiri's first objective was to overcome the historical elementary principles which coordinated the relationships between the sounds of traditional musical language for acoustic instruments and then concentrate his efforts on electronic means, searching for new sound perspectives originating from a structural principle based on the Euclidian plane geometrical figure by which means the various sound parameters can be coordinated and the formal and spatial dimension extracted.
In 1965, together with other operators in the visual field, he set up the Studio di Informazione Estetica and started an interdisciplinary research into sound and visual phenomena.
The main objective of the research was to generate the elements relevant to the sound and visual fields from a single basic structure. The extreme limit of the formal rigorism was achieved in 1968 with the project Musica per un anno, the purpose of which was the sonorization of environments.
From 1970, Zaffiri turned his attention towards the live performance of electronic music. He combined electronic sound with the human voice – sometimes crossing the border into total theatre (Il giuoco dell'oca from the novel by E. Sanguineti and Raptus based on a text by M. Châtel). In the period, the first scores for synthesizers appeared, permitting the live performance of pieces specifically written for this instrument."
More on him (in Italian) here.
As far as I can tell, copies of the limited 7″ are still available (with Miele) from several distributors, including Mimaroglu in the US and SoundOhm in Italy.